Discover more from Appetite for Distraction
Musings on the music industry, consumer tech, and everything in between
Introducing Appetite for Distraction, Season II
Notes on the future of this newsletter
Hey everyone! Yash here. I know it's been a while since I last published an essay, but there's a good reason for that. (or so I hope) 
I've been enjoying a beautiful summer here in Valencia, thinking about what the future of this newsletter looks like. 
I've always aspired to adopt a lifestyle-first approach when it comes to my professional life. For me, that means having complete freedom over: 
One — What I work on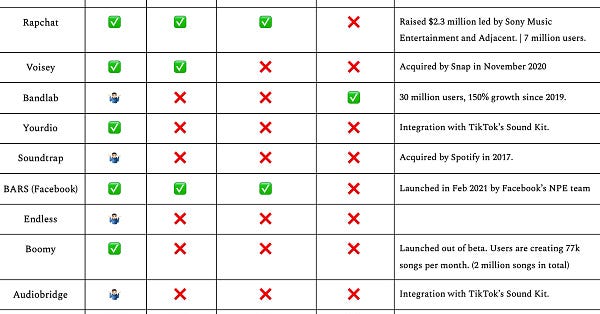 yashbagal.substack.com
Why Don't We Have a Music Creator Economy?
Notes on the music industry's long-awaited 'Instagram moment'
Two — Who I work with
Three — Where I work from
To achieve this, I need to focus on two things:
Sharpening the saw — really investing time and effort into becoming a good writer. 

Using the saw — publishing quality content on a regular basis.
Having said that, I'm really psyched to announce the next season of Appetite for Distraction! I've been incredibly lucky to have had the opportunity to work onstage and behind the scenes with some of the smartest minds in music, tech, and the creator economy. Now it's time to apply everything I've learnt, and make this newsletter a resource that cuts through the noise; helping creators and creative industry professionals make informed decisions. 
So what does this new chapter for AfD entail? Let's dive straight in: 
New Editorial Calendar
I have designed a new editorial calendar that helps me balance quality and quantity. It looks something like this: 
Weekly News Roundups: all the latest stuff happening in music, tech and the creator economy.

Monthly Deep Dives: Long form essays deep diving on specific trends (answering questions like: Why tf is DistroKid valued at $1.3 billion in 2021?)

Monthly Interviews — starting October, I'd like to test out the AfD Podcast — where I'll talk to founders, investors, journalists, and creators working at the intersection of music, tech, and the creator economy. 
New Editorial Focus
This season, AfD will be focussed on two topics: 
Paid Membership & Founding Member Fund
I'm introducing a paid subscription priced at $5 a month so I can keep working independently, hire researchers, invest in a richer information diet, have unbiased opinions (and potentially do this full time?)

I am also introducing a very exclusive founding member fund — a $500 subscription which comes with its own set of perks: 
Monthly 1v1 calls deep diving on pre decided topics 

Business plan review, industry reports, database management, and analyses.
I started off with 4 slots and I'm elated to say that we already have 2 founders who are interested! 
If you're not satisfied with the content, you can unsubscribe at any time, and I will fully refund your money! No questions asked.
I really appreciate your support so far, and I strongly encourage you to become a paying member.
Love & loads of coffee, ☕
— Yash